BUILD RELATIONSHIPS WITH A SCHOOL CRM
Capture, monitor and nurture every prospective enrolment through a Customer Relationship Manager for K-12 schools. Change the way you manage relationships with a school CRM.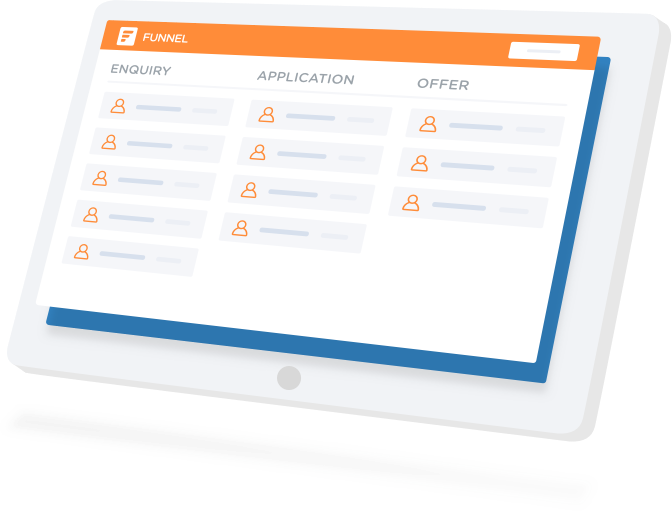 CUSTOM ENROLMENT STAGES
Every school is unique, as are the steps that prospective parents pass through during enrolment. Using Funnel, you can create custom enrolment stages through which each potential applicant will pass, based on your school's existing enrolment process.
TRANSPARENT PIPELINE
You'll have a clear view of which enrolment stage each student has reached based on the enrolment steps they've taken. Having a view of each student's enrolment stage allows your school to make more accurate predictions around enrolment numbers.
CENTRALISED COMMUNICATION
Our clever system integrations allow your school to reduce admin and improve functionality. Digistorm can connect Funnel with our ENROL online enrolment system as well as a range of online forms for the seamless and simple transfer of data.
School CRM features to understand your enrolment funnel.
The Funnel school CRM interface is user-friendly and offers a comprehensive summary of updates related to prospective enrolments. Get a quick and simple overview of enrolment activity, collect crucial information and manage activity to ensure that the school's relationship with every prospective parent is nurtured.
Dashboard
Your Funnel dashboard gives your school a quick and simple overview of your school CRM activity. View the number of enrolments in each stage of the pipeline, in addition to the number of enrolments over time, pending tasks and latest activity within the system.
Leads
Leads are students with the potential to enrol in your school, who have expressed their interest. Instantly view and filter leads and create customised views, segments and lists of potential enrolments. Use the information to forecast enrolment numbers more accurately.
Timeline
Your Funnel timeline gives you a quick, simple and holistic view of each individual lead. With a clear and comprehensive timeline view, see every interaction, activity and internal task attached to a prospective enrolment with just a single click.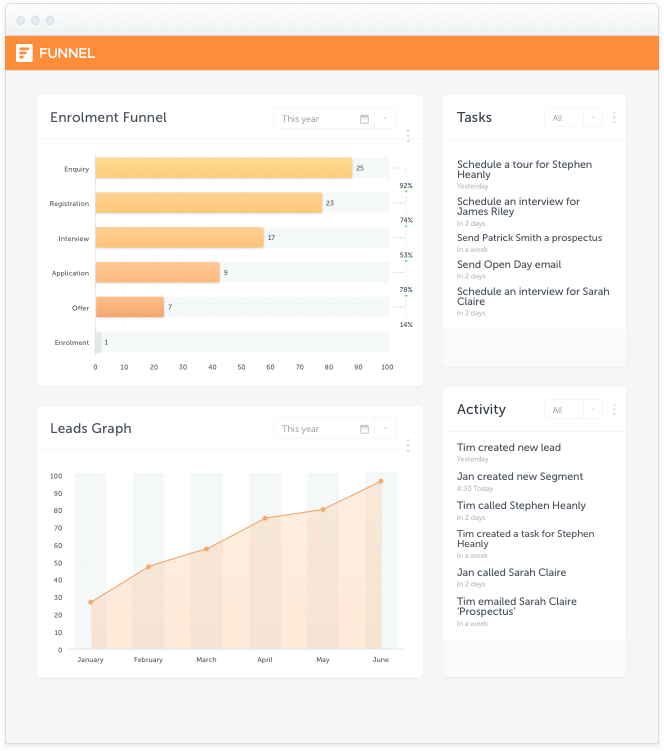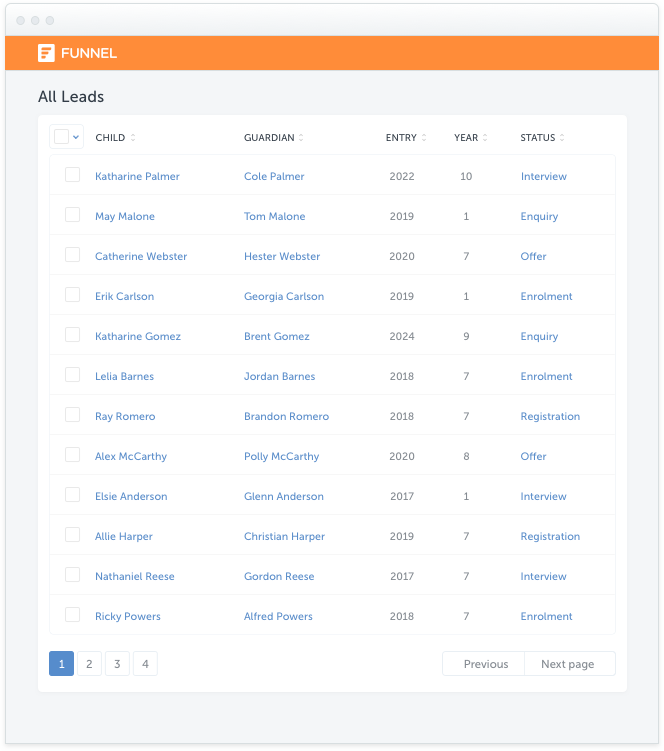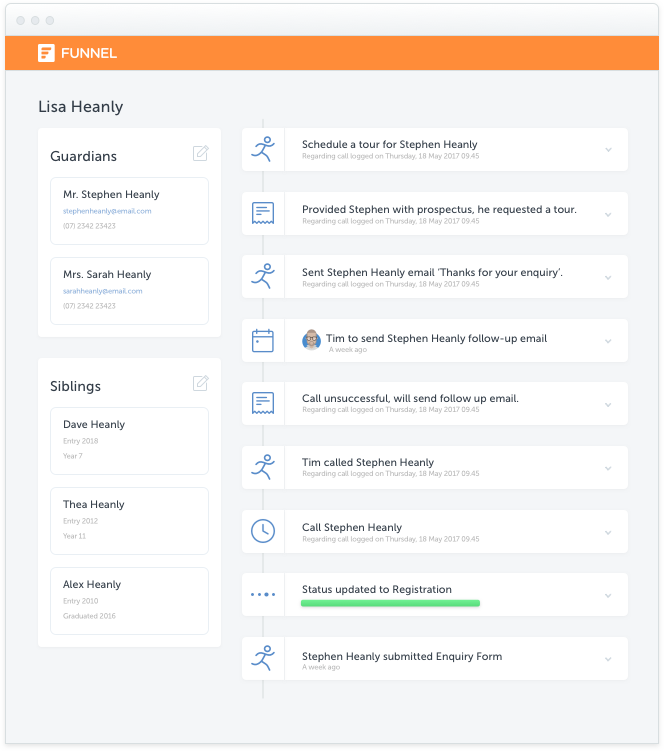 Access the right school CRM information with filters.
Schools can filter the data of prospective enrolments based on any attribute, in order to access the data they need.
From year of enrolment to enrolment stage and even a combination of multiple filters, schools can filter, save and export any segment they need using Funnel. Improve and increase your online enrolments by accessing specific information and using it to contact and nurture relationships with your school's important leads.
Keep track of your analytics with Reports
Your school can analyse crucial data and track enrolments wtih the Reports module.
Manage and track data
The visual analytics displays high-volume data by breaking down lead activity and conversion rates at each stage of the enrolment process. Analyse team productivity, your enrolment pipeline and understand where you're losing your enrolments.
Critical insights
Check your school's enrolments each month, make year on year comparisons and review geographic data of each applicant. Reports give you complete transparency into the progress of your school's enrolment process from start to finish.
Custom Dashboards
Easily build and share custom dashboards with your team members. Display a collection of the reports that are most relevant to you.
Manage Open Days
and Tours with Ease.
Funnel offers an Events module that allows parents to book their school tour or open day attendance through a simple, integrated online form.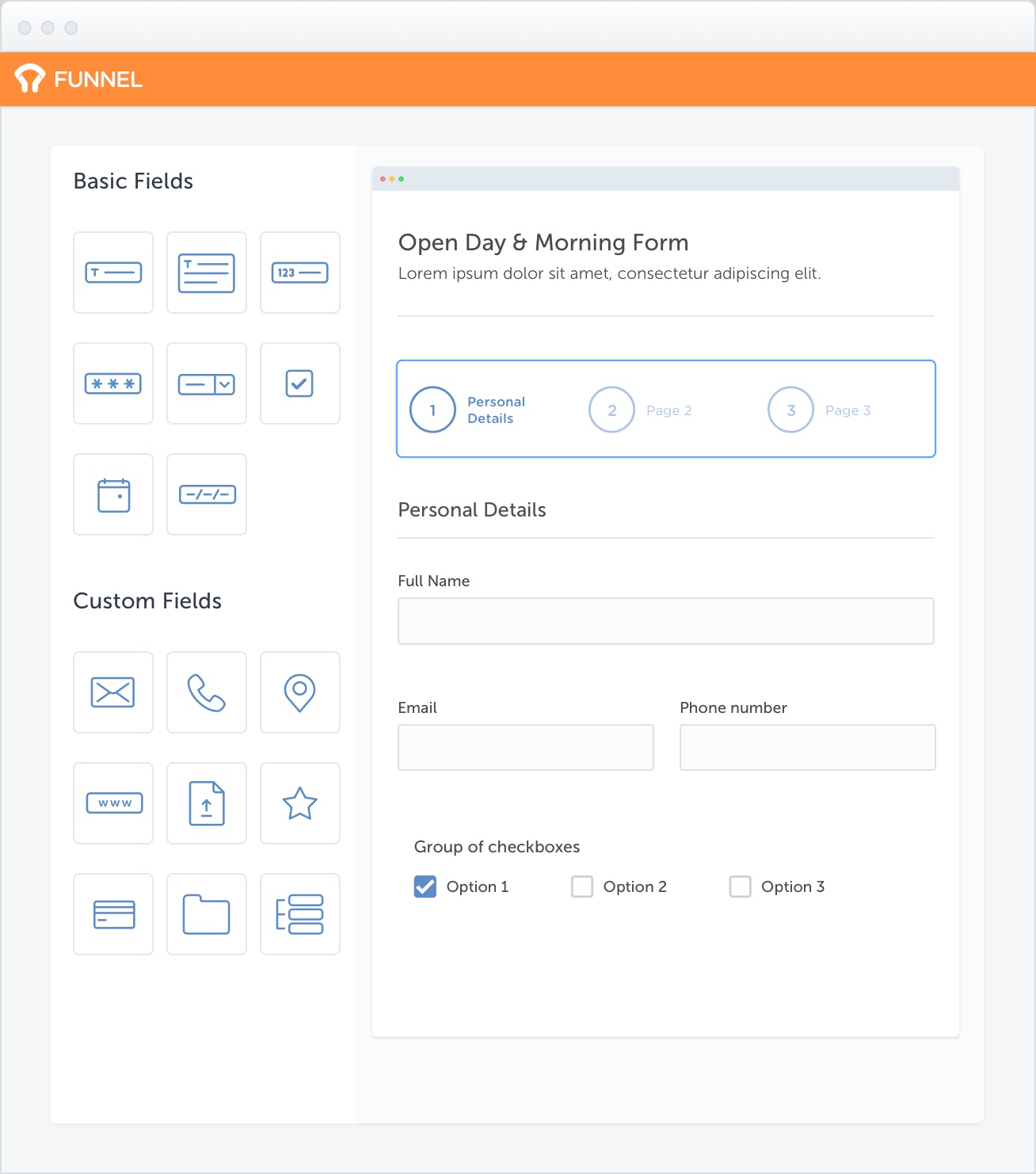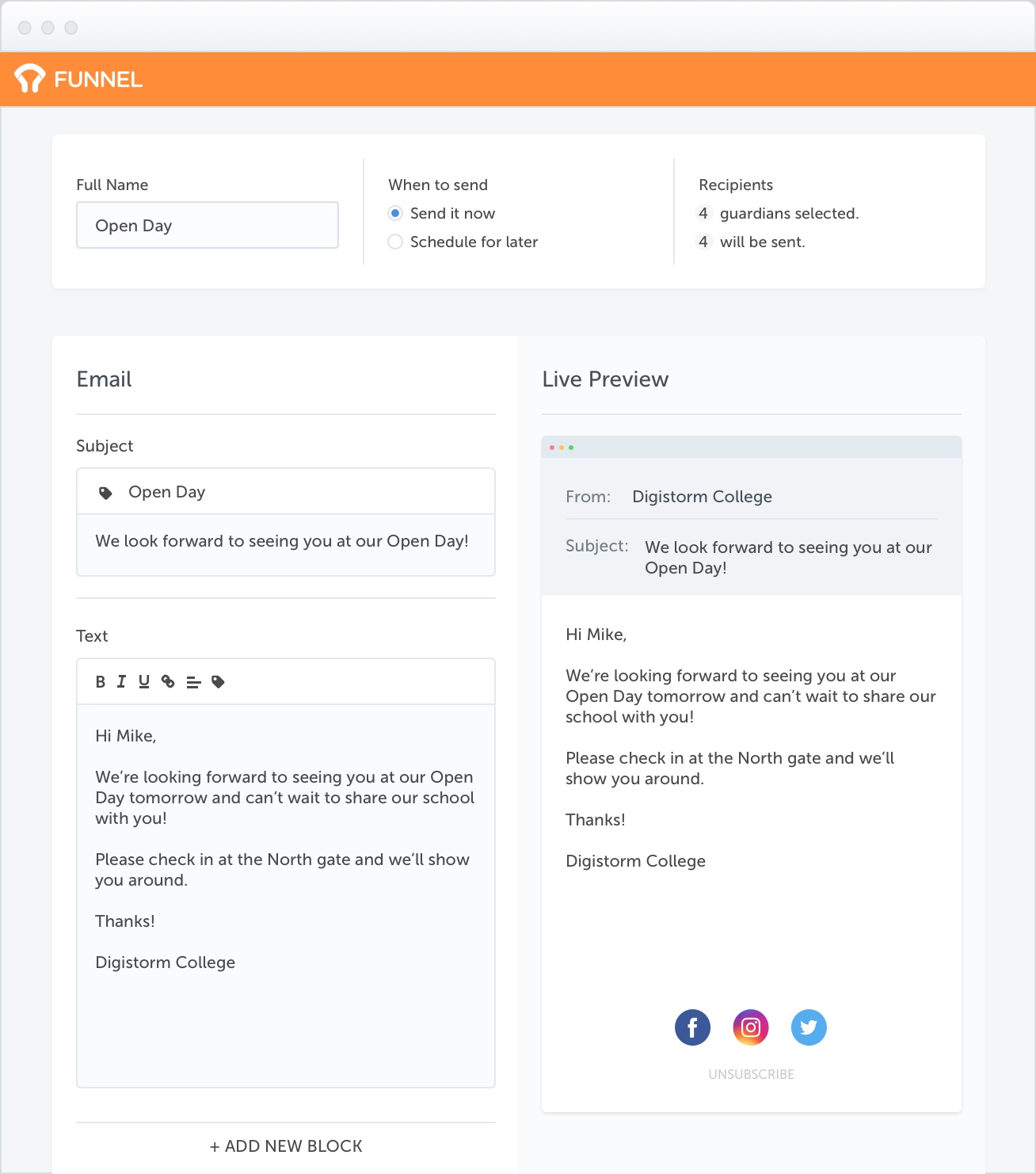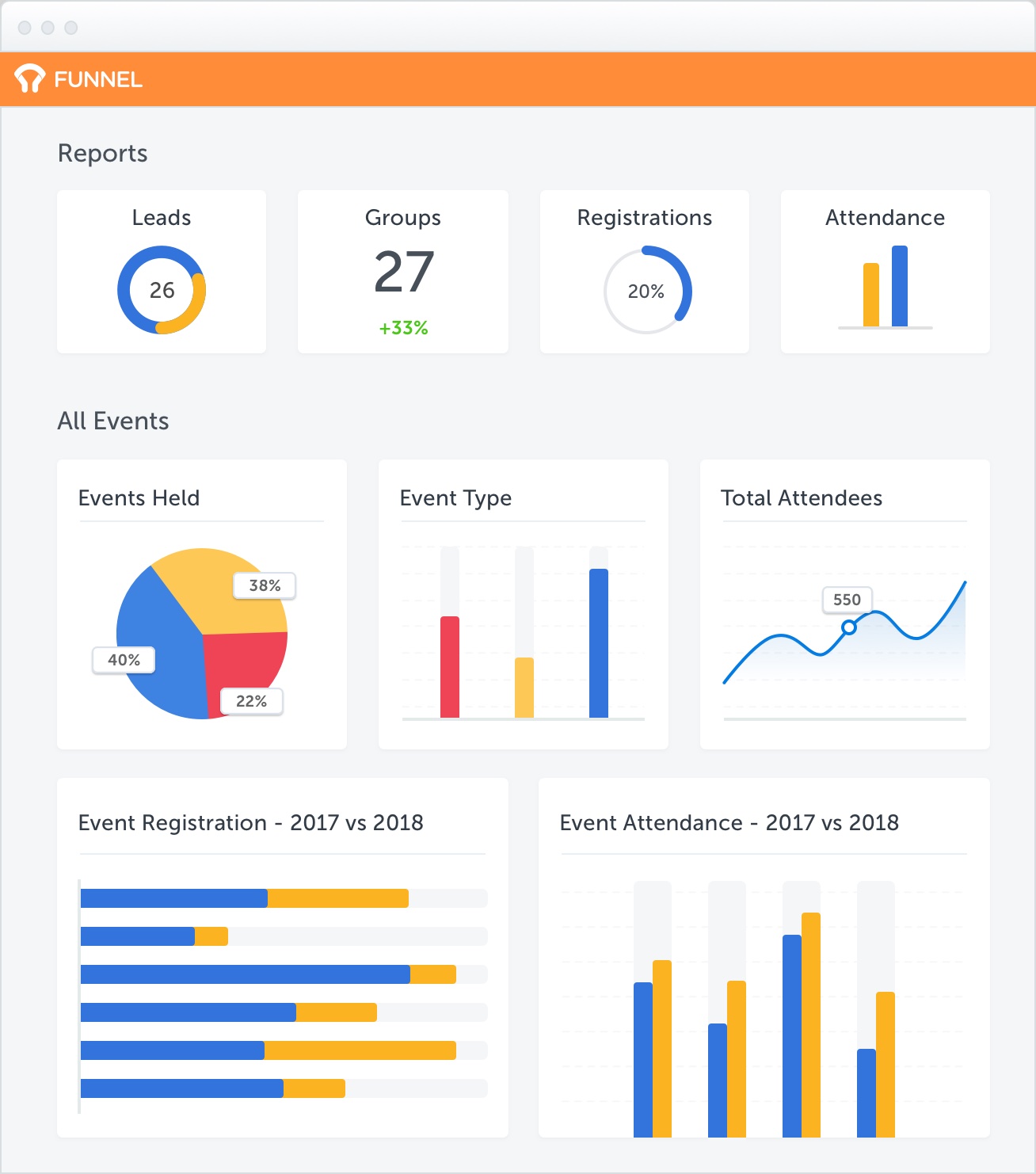 Collect Data
Build custom forms based on your Open Day or Tour requirements, and offer parents a simple and user-friendly form to collect the data your school needs.
Nurture Attendees
Send reminder emails, check attendees in to their Tours or Open Days and follow up with targeted communication to maximise the ROI of your enrolment events.
Analyse Events
Review your conversion rates, view the attendance of existing leads as opposed to new leads and understand the your best performing sources of event registration.
---
Track Attendance With the Funnel Check In App.
Quickly and easily check attendees in at your Tour or Open Day.
Leveraging years of mobile application development experience, Digistorm has created a dedicated iOS and Android mobile application to ensure that the registration process at your Tour or Open Day is seamless and pain-free. Understand and monitor attendees so that you can tailor post-event communications to them and continue to nurture the prospective parent relationship and encourage an enrolment.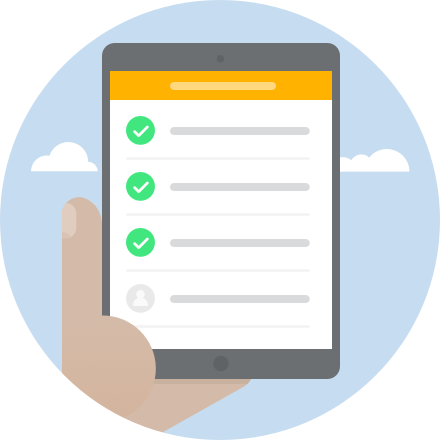 Tools for Targeted Communications
Select specific Leads in the system or select Segments or Lists and send targeted emails to them, directly from Funnel.
Parent communication becomes simple with Funnel. Simply select your relevant list, compose your targeted message and hit send. Got an Open Day coming up? Create a list of next year's prospective enrolments and send them a reminder to register for the event.
You can select the Leads you'd like to email, or select an entire Segment or List to send to.
Create your email including a custom subject line, content and a call to action button.
Communicate with your selected Leads, all at once. Send immediately or schedule your send.
View a report to understand your email's clicks, opens and deliverability.